Dr. Munira Patel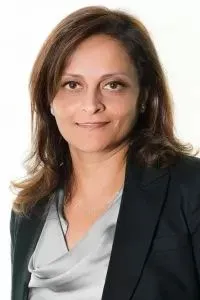 Our chiropractor, Dr. Munira Patel, has been providing wellness care at the Dunwoody Chiropractic Center since 1993. By combining chiropractic care, physiotherapy, and nutritional counseling, Dr. Patel helps patients reduce pain and reach their optimal health.
Many patients come to our Dunwoody chiropractic clinic looking for relief from pain associated with auto accident injuries, sports injuries, or work-related injuries. Some are struggling with the effects of stress, sciatica, or fibromyalgia. What they find is a knowledgeable and caring professional who uses a "whole person" approach to healing. Dr. Patel takes the time to perform an examination to look for any underlying causes of pain and then develops a treatment plan based on each patient's unique needs.
Her treatment plans are designed to work first to relieve the pain a patient is feeling and provide corrective care for any underlying causes of pain. This phase may involve a combination of chiropractic care and additional therapies to relieve pain and promote healing. Once a patient is feeling better, Dr. Patel will recommend a course of wellness care to help the patient continue to achieve the goal of living pain-free. This may include ongoing maintenance visits, corrective exercises, nutritional counseling, and lifestyle advice.
---
A Chiropractic Clinic That Cares About You

Our motto at Dunwoody Chiropractic Center is "Pain-Free Living…Your Goal, Our Mission." Dr. Patel works with patients to help them achieve their goal of pain-free living. She believes that her skills as a chiropractor, combined with a course of massage therapy and wellness care, are the fundamental tools that are necessary for success without resorting to drastic measures such as invasive surgery or dealing with the negative side effects of prescription drugs. Other healing techniques she may prescribe at our chiropractic center include muscle and neural stimulation, mechanical traction, cryotherapy, or moist heat therapy. Each recommendation is based on the patient's specific needs and goals.
Dr. Patel feels that the most important component of what she provides is her caring attitude and genuine concern for the ongoing health and wellness of our patients. That's why she may recommend lifestyle changes or suggest natural vitamins and mineral supplements that can help patients accelerate or maintain their journey to wellness and pain-free living.
While you're visiting our website, be sure to become a member so you can discover additional resources to help you achieve a healthier and happier life. You'll also receive special discounts for services at our chiropractic center and a free subscription to our Healthy Living Newsletter that contains ongoing tips and information from Dr. Patel and our staff to keep you motivated and informed. If you have any health questions, please contact us and one of our healthcare professionals will be glad to be of service. Dr. Patel and the staff look forward to seeing you soon and helping you live a pain-free life!